TRANSFORMATION

Global transformation can occur only when each individual has the courage to awaken from this amnesia to our true self and then make conscious choices true to our spirit. The human race is the only species on earth evolved enough to be capable of this privilege.

Patsie Smith
---
COVID-19: Current Worldwide Status
Worldwide Confirmed Cases
Worldwide Confirmed Deaths
Worldwide Case Fatality Rate
Worldwide Doubling Time
Worldwide Crude Confirmed Case Rate + Worldwide Crude Fatality Rate
Worldwide case fatality rate at 4.51. Worldwide doubling time for the last two days is at 40 days. Worldwide confirmed cases and worldwide confirmed deaths continue to rise. The spread of COVID-19 continues.
Data Sources: Our World In Data. COVID-19 Dashboard by the Center for Systems Science and Engineering (CSSE) at Johns Hopkins University (JHU). Worldometer.
---
SOCIAL MOOD: Polarized
Source: Serbia protests against the government's coronavirus response turn violent.
---
Source: Hong Kong: activists raise blank paper in protest against security law.
---
Source: Thousands march for French bus driver who died after attack by passengers over face masks.
---
Source: Thousands of Oromo's killed in Ethiopia protest 2020.
---
Source: Protest held in SF calling for justice after prominent Ethiopian singer killed.
---
Source: LIVE: Protests hit Buenos Aires on Argentina's Independence Day.
---
Source: Native Americans protest Trump's Mt. Rushmore rally.
---
Source: Mark Morgan weighs in on Portland's 38th day of protests.
---
Source: Elijah McClain Protesters Rally Against Aurora Police Department in Colorado.
---
HEALTH: Sunlight and Vitamin D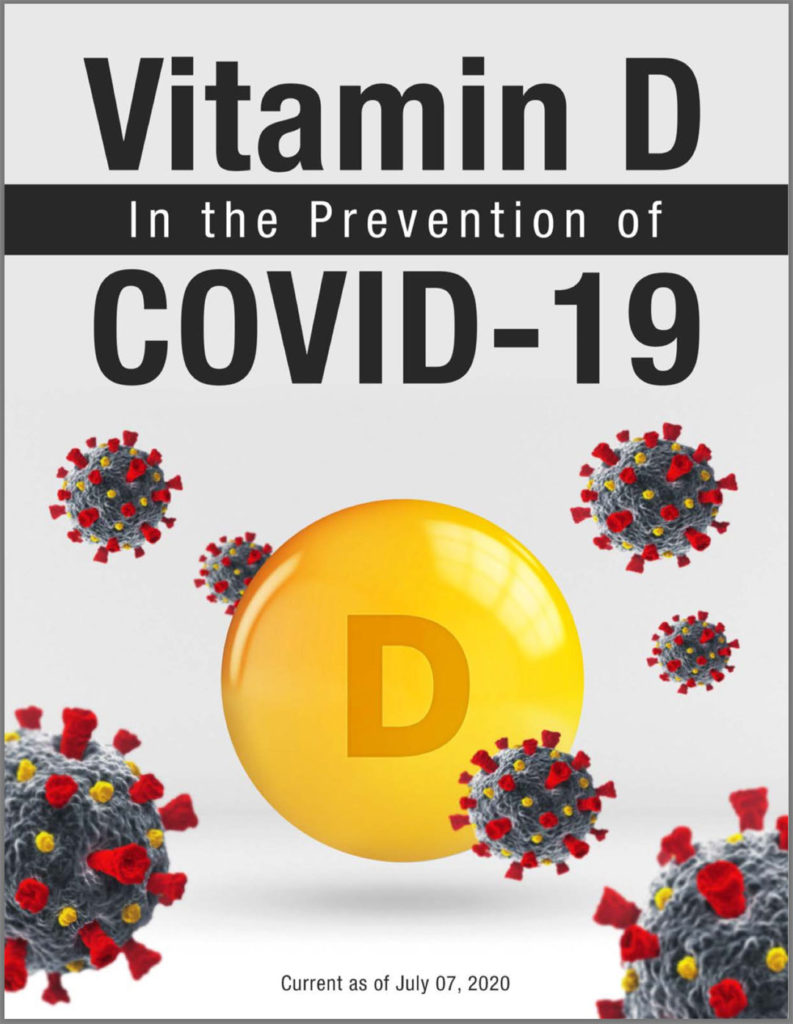 "A recent retrospective analysis at the University of Chicago of over 4,000 patients was designed to examine whether vitamin D deficiency and treatment are associated with testing positive for COVID-19. They found that vitamin D deficiency that was not sufficiently treated was associated with an increased risk for COVID-19 infection. Another observational study involving 212 patients in Southeast Asia did multinomial logistic regression to predict clinical outcomes of patients infected with COVID-19 based on their vitamin D levels. The results are summarized in the graph below, which shows that of those with a COVID-19 case that was critical or severe, only 4% had normal levels, while 96% with mild COVID-19 had normal vitamin D levels."
Excerpt From: Vitamin D in the Prevention of COVID-19.
---
Source: Does Vitamin D help with Immunity?
---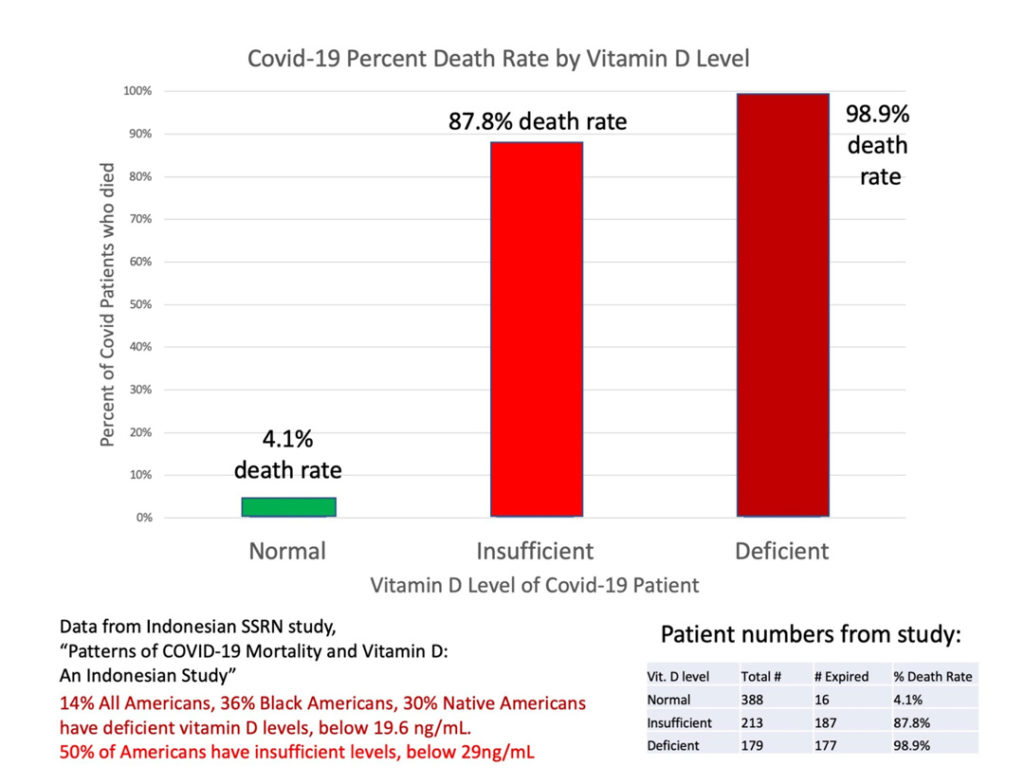 "Vitamin D could be a key factor in the fight against Covid-19. Three international studies have shown correlations, and a new US study shows correlation while explaining the medical reason for the correlations and a reason for the racial death differences and the surprising lack of symptoms in the homeless… The Indonesian Study showed the largest death differences, the large number of deaths is likely due to only studying hospitalized patients, although that is not made explicitly clear in the article. They also found that, "When controlling for age, sex, and comorbidity, Vitamin D status is strongly associated with COVID-19 mortality.""
Excerpt From: Vitamin D Covid Correlations Keep Coming.
---
"Interpretation: We find a significant negative association between UVI and COVID-19 deaths, indicating evidence of the protective role of UVB in mitigating COVID-19 deaths. If confirmed via clinical studies, then the possibility of mitigating COVID-19 deaths via sensible sunlight exposure or vitamin D intervention will be very attractive because it is cost-effective and widely available."
Excerpt From: Message for the World and India and Evidence of Protective Role of Ultraviolet-B (UVB) Radiation in Reducing COVID-19 Deaths.
---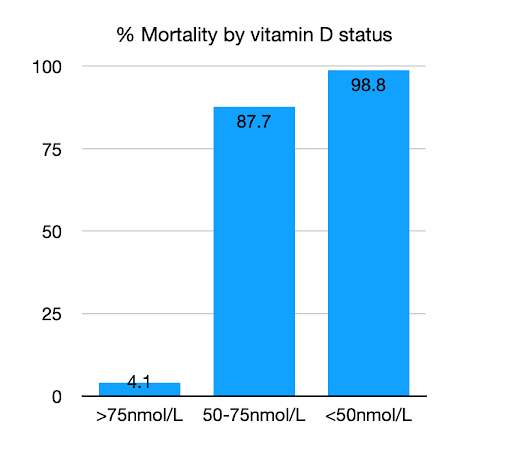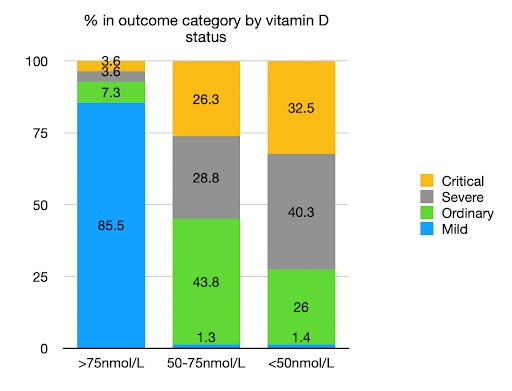 "The COVID-19 pandemic could be resolved in 30 days for about $2 per person, simply by taking affirmative action to raise vitamin D levels among the general public. Optimizing your vitamin D could reduce your risk of severe COVID-19 by 90% and your risk of dying from it by 96%. Data from 20 European countries found the probability of developing and dying from COVID-19 is negatively correlated with mean population vitamin D status; both probabilities reach zero at vitamin D levels above 30 ng/mL (75 nmol/L). Warnings about "excessive vitamin D intakes" being dangerous are misleading and unwarranted, as toxicity has not been demonstrated until you hit blood levels above 200 ng/mL (500 nmol/L). Quercetin and zinc may further lower your risk of COVID-19, as well as time-restricted eating and a cyclical ketogenic diet as they both decrease insulin resistance. Ketone esters and molecular hydrogen can be useful acutely. The MATH+ Protocol appears to also be effective for those with serious disease, especially implemented early in the hyperinflammatory phase of the disease."
Excerpt From: How to Fix the COVID-19 Crisis in 30 Days.
---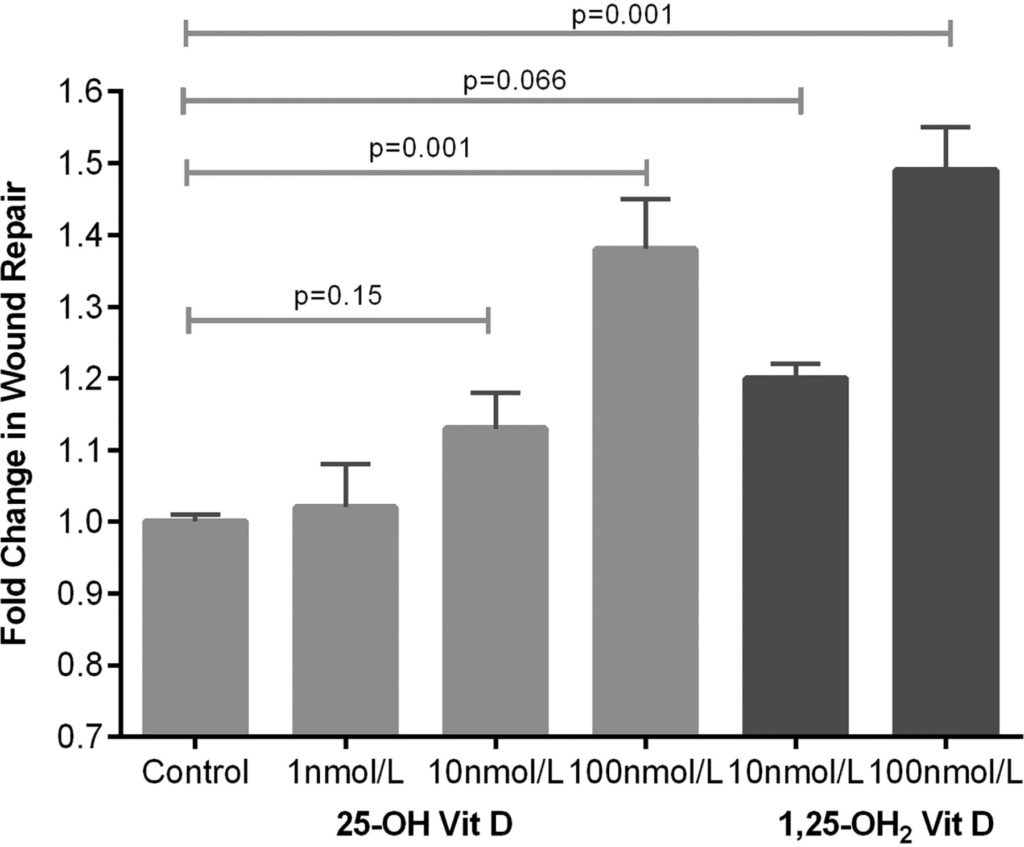 "Findings: Vitamin D deficiency (plasma 25(OH)D levels <50 nmol/L) was ubiquitous in patients with ARDS and present in the vast majority of patients at risk of developing ARDS following oesophagectomy. In a murine model of intratracheal lipopolysaccharide challenge, dietary-induced vitamin D deficiency resulted in exaggerated alveolar inflammation, epithelial damage and hypoxia. In vitro, vitamin D has trophic effects on primary human alveolar epithelial cells affecting >600 genes. In a clinical setting, pharmacological repletion of vitamin D prior to oesophagectomy reduced the observed changes of in vivo measurements of alveolar capillary damage seen in deficient patients. Conclusions: Vitamin D deficiency is common in people who develop ARDS. This deficiency of vitamin D appears to contribute to the development of the condition, and approaches to correct vitamin D deficiency in patients at risk of ARDS should be developed."
Excerpt From: Vitamin D deficiency contributes directly to the acute respiratory distress syndrome (ARDS).
---
PRIVACY: Coronavirus Contact Tracing Surveillance
"Paul-Olivier Dehaye, director of PersonalDataIO, speaks to Open Rights Group about the use of contact tracing surveillance in the global response to Covid-19."
Excerpt From: Data-driven approaches to assessing civil liberties impact of Covid-19.
---
BOOK: Philosophy and The Social Problem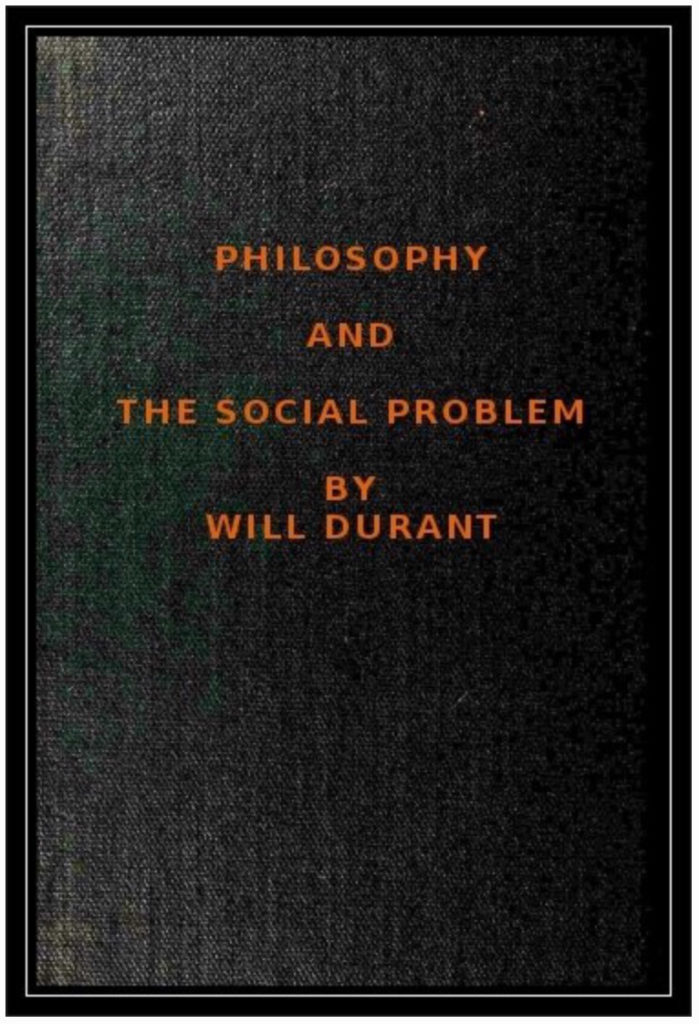 "History is a process of rebarbarization. A people made vigorous by arduous physical conditions of life, and driven by the increasing exigencies of survival, leaves its native habitat, moves down upon a less vigorous people, conquers, displaces, or absorbs it. Habits of resolution and activity developed in a less merciful environment now rapidly produce an economic surplus; and part of the resources so accumulated serve as capital in a campaign of imperialist conquest. The growing surplus generates a leisure class, scornful of physical activity and adept in the arts of luxury. Leisure begets speculation; speculation dissolves dogma and corrodes custom, develops sensitivity of perception and destroys decision of action. Thought, adventuring in a labyrinth of analysis, discovers behind society the individual; divested of its normal social function it turns inward and discovers the self. The sense of common interest, of commonwealth, wanes; there are no citizens now, there are only individuals. From afar another people, struggling against the forces of an obdurate environment, sees here the cleared forests, the liberating roads, the harvest of plenty, the luxury of leisure. It dreams, aspires, dares, unites, invades. The rest is as before. Rebarbarization is rejuvenation. The great problem of any civilization."
Excerpt From: Philosophy and the Social Problem by Will Durant.
---
PANDEMICS: Catch, Heat and Kill Viruses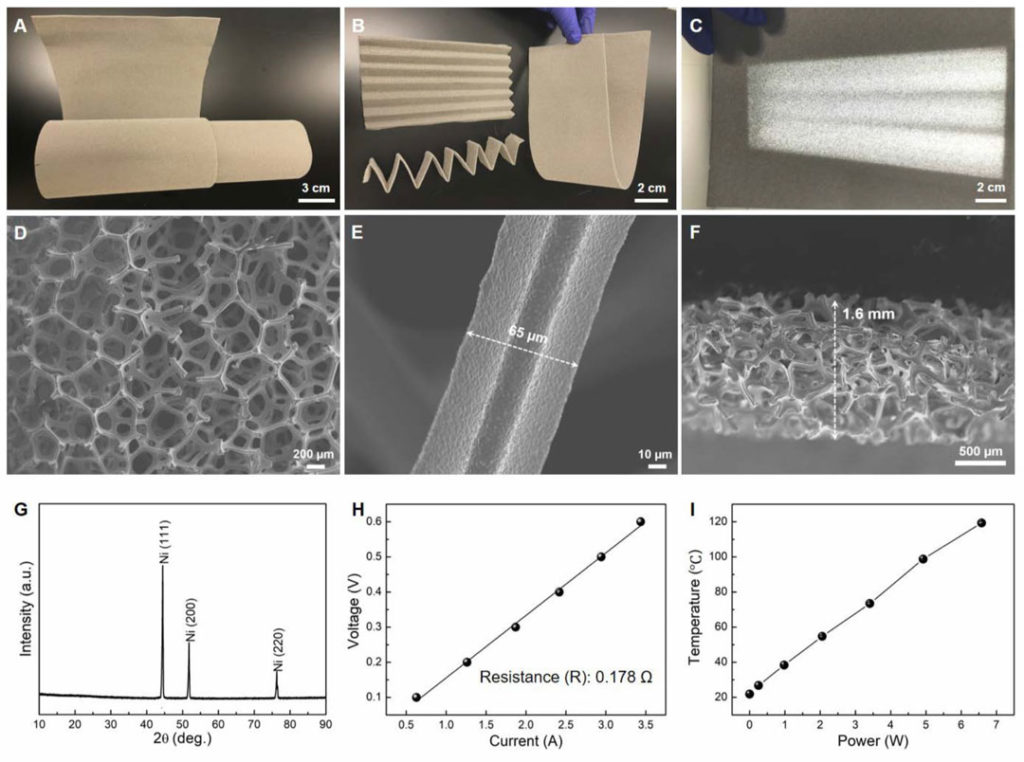 "Airborne transmission of severe acute respiratory syndrome coronavirus 2 (SARS-CoV-2) viaair-conditioning systems poses a significant threat for the continued escalation of the current coronavirus disease (COVID-19) pandemic. Considering that SARS-CoV-2 cannot tolerate temperatures above 70 °C, here we designed and fabricated efficient air disinfection systems based on heated nickel (Ni) foam to catch and kill SARS-CoV-2. Virus test results revealed that 99.8% of the aerosolized SARS-CoV-2 was caught and killed by a single pass through a Ni-foam-based filter when heated up to 200 °C. Additionally, the same filter was also used to catch and kill 99.9% of Bacillus anthracis, an airborne spore. This study paves the way for preventing transmission of SARS-CoV-2 and other highly infectious airborne agents in closed environments."
Excerpt From: Catch and kill airborne SARS-CoV-2 to control spread of COVID-19 by a heated air disinfection system.
---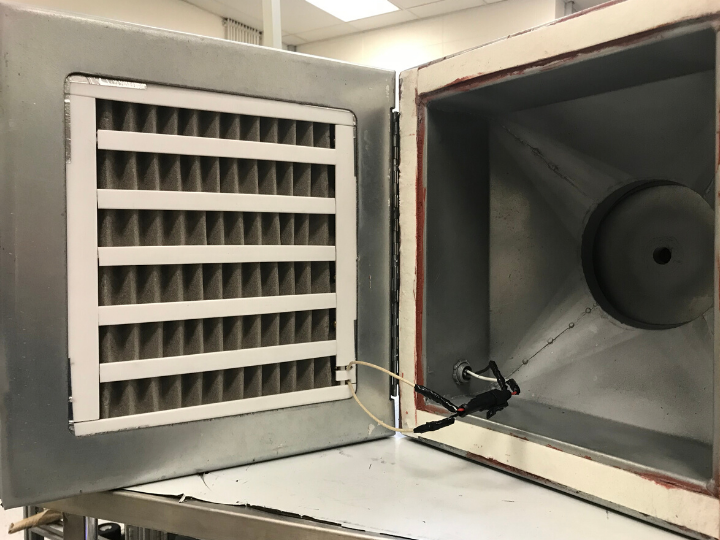 "Researchers from the University of Houston, in collaboration with others, have designed a "catch and kill" air filter that can trap the virus responsible for COVID-19, killing it instantly… The researchers reported that virus tests at the Galveston National Laboratory found 99.8% of the novel SARS-CoV-2, the virus that causes COVID-19, was killed in a single pass through a filter made from commercially available nickel foam heated to 200 degrees Centigrade, or about 392 degrees Fahrenheit. It also killed 99.9% of the anthrax spores in testing at the national lab, which is run by the University of Texas Medical Branch... "This filter could be useful in airports and in airplanes, in office buildings, schools and cruise ships to stop the spread of COVID-19," said Ren, MD Anderson Chair Professor of Physics at UH and co-corresponding author for the paper. "Its ability to help control the spread of the virus could be very useful for society." Medistar executives are is also proposing a desk-top model, capable of purifying the air in an office worker's immediate surroundings, he said."
Excerpt From: Researchers Create Air Filter that Can Kill the Coronavirus.
---
ECONOMY: United States Bankruptcy Filings, United States Passenger Volumes, Global Seated Diners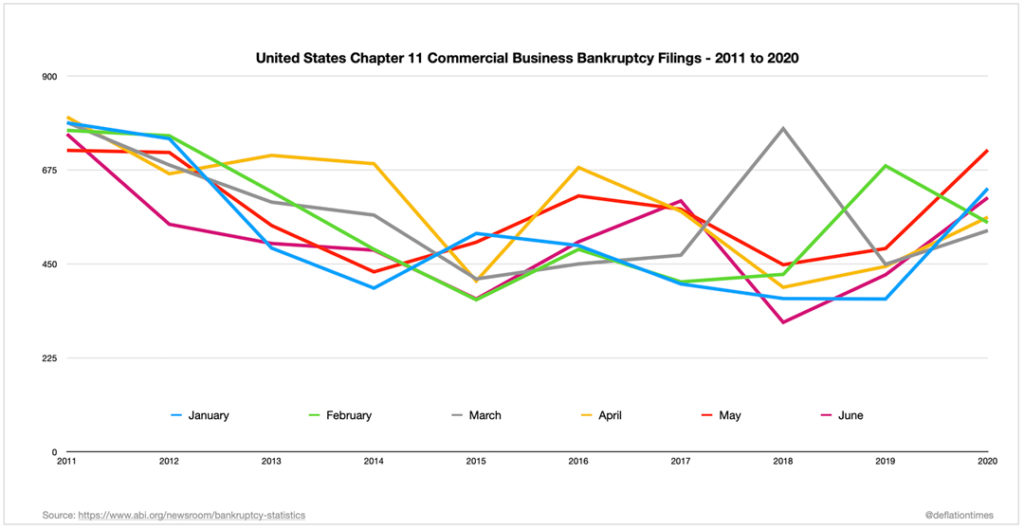 Data Source: June 2020 Bankruptcy Statistics – Commercial Filings.
---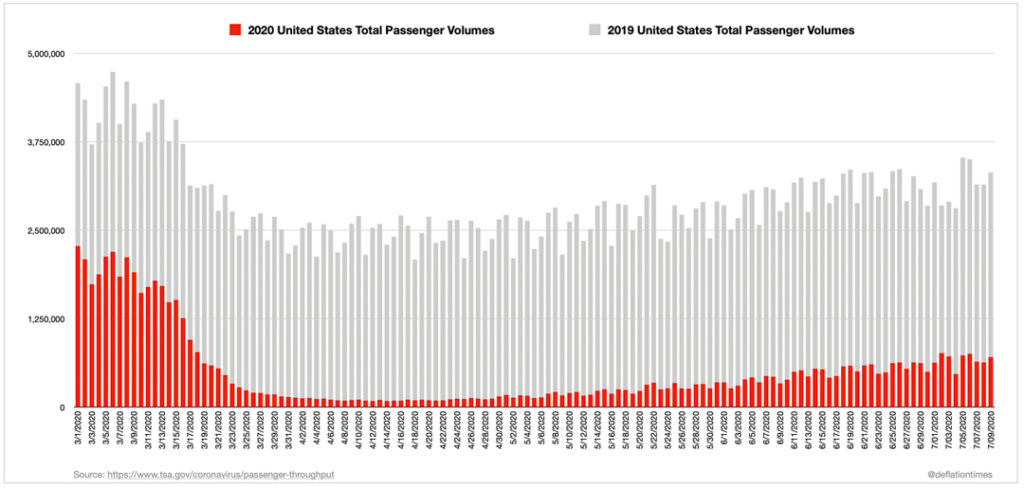 Data Source: TSA checkpoint travel numbers for 2020 and 2019.
---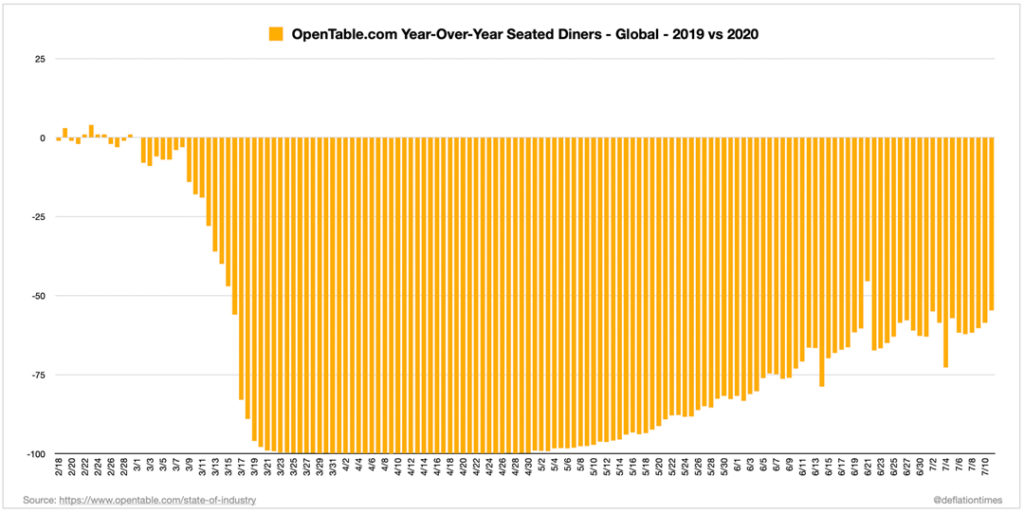 Data Source: The state of the restaurant industry.
---
POLITICS: China's Political Interference
"The greatest long-term threat to our nation's information and intellectual property and to our economic vitality is a counterintelligence and economic espionage threat from China. It is a threat to our economic security and, by extension, to our national security. As national security advisor O'Brien said in his recent remarks, we cannot close our eyes and ears to what China is doing… But if you think these issues are just an intelligence issue, or a government problem, or a nuisance largely for big corporations who can largely take care of themselves, you could not be more wrong. It is the people of the United States who are the victims of what amounts to Chinese theft on a scale so massive that it represents one of the largest transfers of wealth in human history… If you are an American adult, it is more likely than not that China has stolen your personal data. In 2017, the chinese military conspired to hack Equifax and made off with sensitive personal information of 150 million Americans, we are talking nearly half of the American population, and most American adults. As I will discuss in a few moments, this was hardly a standalone incident. Our data is not the only thing at stake here. So is our health, our livelihoods, and our security. We have now reached the point where the FBI is opening a new China-related counterintelligence case about every 10 hours. Of the nearly 5000 active FBI counterintelligence cases currently underway across the country, almost half are all related to China. At this very moment, China is working to compromise American health care organizations, pharmaceutical companies, and academic institutions, conducting a central covid-19 research."
Excerpt From: China's Attempt to Influence U.S. Institutions: A Conversation with FBI Director Christopher Wray.
---
Source: The Story: Is China interfering in NZ's political system?
---
Source: China Defense & Security Conference – Panel 3: The United Front and CCP Overseas Influence.
---
Source: China has 'successfully wormed its way into' elite democracies.
---
Source: Australia 'sharpening its teeth' to be ready for communist China.
---
"A joint investigation by Four Corners, The Age and Sydney Morning Herald reveals fresh and compelling evidence of covert Beijing-backed political activity taking place in Australia."
Excerpt From: Interference: China's covert political influence campaign in Australia.
---
"Sky News host Paul Murray says the recent revelations about alleged Chinese ties to the NSW Labor Party once again show that when "China gets its hooks into you" there are only two options, "shut up or praise them."
Excerpt From: The 'influence of China matters' in Australian affairs.
---
Source: Hong Kong's New Security Law: The Hong Kong and China Dispute Explained – TLDR News.
---
HISTORY: Learning from Previous Protests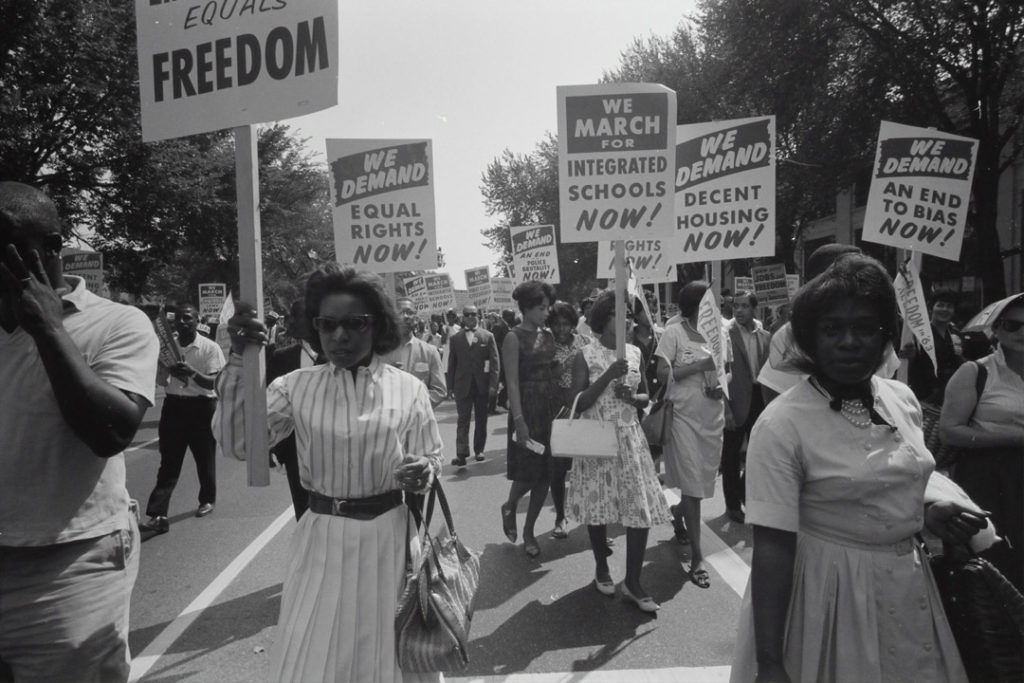 "Protests against racial injustice and repression have a long history in this country. Examining the government and national response during previous eras of racial unrest, especially during the "long, hot summers" from 1963 to 1968, might help us predict what comes next—and guide us toward eventually ending this tragic cycle once and for all... Like the George Floyd protests, the demonstrations in the 1960s were rooted in a search for black citizenship and dignity against the backdrop of institutional racism, segregation, discrimination, and violence. Like the current protests, the earlier protests demanded that the country fulfill its promises. In his "Letter from a Birmingham Jail," the Reverend Martin Luther King, Jr., characterized African American protests enveloping that city in 1963 as a call for the nation to "return to those great wells of democracy dug deep by the founding fathers.""
Excerpt From: How will the protests end? History tells us much depends on how government responds.
Photo by Library of Congress on Unsplash.
---
Curated by Mario Daurte.
Of Note is The Deflation Times weekly bulletin of the week's most notable deflation stories.
Cover photo by Casey Horner on Unsplash.
---
Subscribe to receive Of Note direct to your inbox:
---